Exporting Mac Outlook to Apple Mail can be quick and precise, unlike what majority of generic tools have made you believe. What you need is a professionally and carefully developed solution, which is finally here, available to try for free!
Export Mac Outlook to Apple Mail
Mac Outlook and Apple Mail have stark differences, maybe not in how they allow users to manage emails and other items, but in their inner functionality. The way they both process data is quite varying and distinct. One of the most important differences is the file formats that they use. There's no common data file that can be used in both.
Mac Outlook implements their own proprietary OLM file format. And Apple Mail uses EMLX file to store a single email message within the profile directory.
This differences makes it apparently difficult to move the data from one to another. If you emails in Mac Outlook, all you can do is archive them to OLM format. But OL cannot be used with Mac Mail, which only requires MBOX or EMLX. And thus the challenge everyone finds difficult to overcome during email migration.
But it's not true.
It's possible to export Mac Outlook to Apple Mail without too much efforts, make it quick, and still achieve professional grade precision with your entire database and its integrity.
Way to Export Mac Outlook to Apple Mail
This is made possible by an excellent team of developers inside a well-established company called USL Software. This tool is built with some sophisticated algorithms, but complemented with equally basic and easy UI, that would make this job a breeze.
Called "OLM Extractor Pro", it is now available to download for free as a trial version. And can later be activated though its economical pricing licenses.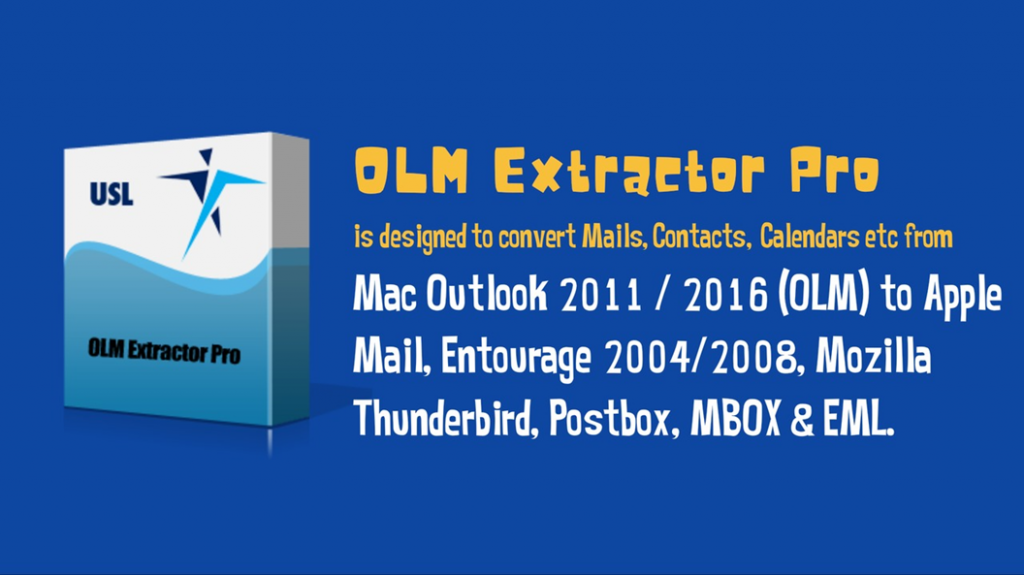 The link to download the tool is available at the end of this post. You can download the setup file instantly without giving any information.
That's the best way to see how it works. Dabble with its features and everything Personally.
Key Features
But if you want to read more, here's a condensed list of its most important features:
The tool handles large and multiple OLM files easily without compromising speed and accuracy.
It maps the folder hierarchy quite accurately from Mac Outlook to Apple Mail without displacing any of your folders or sub-folders within them.
It has full support for processing any Unicode content, meaning, non-English text characters. Most notably Chinese, Japanese, and Korean characters.
The tool extracts and converts data quickly, leaving you with your precious time to do other jobs and not complex technical job.
The UI is very intuitive, giving the chance even to non-experienced users to convert data and benefit from an advanced tool that is usually reserved only for IT professionals.
You can analyze the conversion results through its brief or detailed log.
The tool can automatically convert contacts and calendar entries to VCF and ICS files respectively. Moreover, it can also let you choose to merge all contacts and calendar data per folder into a single VCF and ICS file respectively.
Free Trial to Export Mac Outlook to Apple Mail
Download the trial setup now and you will see what it is all about.
Get it here: https://www.olmextractorpro.com/
There are many ordinary solutions out there that make it look like email migration like exporting Mac Outlook to Apple Mail is complex and time-consuming. It is not, if you have a proper set of tools, like "OLM Extractor Pro".
Moreover, the 24×7 tech support from USL Software makes it even easier for total beginners to get any help in case they need any, or have queries. They are friendly, expert on email migration, and quick to respond.
Related Readings:
To export Mac Outlook to Apple Mail, try 'OLM Extractor Pro' today.