Are you moving away from Mac Mail to other clients like Mac Outlook, Thunderbird, Entourage, or other, and want to move your data? Then "Mail Extractor Max" will take you there. It's specialised algorithms and smart interface will make the process straightforward and efficient.
Mac Mail Database Conversion
Mail Extractor Max converts the Apple Mail identity database directly to the following email clients and formats:
Entourage 2004/2008
Mac Outlook
Thunderbird
Postbox
MBOX
EML
The tutorial below will take you through each step for converting Apple Mail database without efforts. To follow along, you can download the trial edition that converts ten items per folder and you can check out all the features easily. Make sure you have installed the trial version before following along.
Mac Mail Database Conversion, How It Works!
Here are the steps to convert your data in Apple Mail:
Step 1:
Launch the tool and click on "Load," to bring up your two options to load Apple Mail data that you want to convert.
Auto-load the main profile/identity database folder
Load any other database folder from any location that you saved as a backup
Step 2:
Check the folders that you want to convert. Un-tick all other. Tick the 'Ignore Empty Folders' to not include them in converted files. This allows users to remove anything that they don't need, as opposed to converting the entire database unwillingly if you go with ordinary converters.
Step 3:
Choose the desired application/format you want the Apple Mail data to convert or migrate to. If you are moving to Entourage, choose "Entourage," or if you just want to convert to generic MBOX or EML files, then choose them.
Step 4:
Click "Convert" to start the conversion process. Click "OK" when the notification for trial version appears, and then choose the output location to save the files. Depending on the size of the database and the folders you selected to convert, the tool will take few minutes to convert everything.
Once it's done, you will get a confirmation window which also contains a brief and detailed conversion log and a direct link to open the output folder. And that's it! Only "Mail Extractor Max" offers a 4-step conversion method that any beginner or expert can follow easily. It's highly intuitive and natural to use.
And the tool's dedicated logic will make sure every item is converted without fragmentation or errors. It supports the conversion of all email items, metadata, folder hierarchy, and non-English text characters.
Get the trial setup using the link below.
Download Now at https://www.uslsoftware.com/download/mail-extractor-max/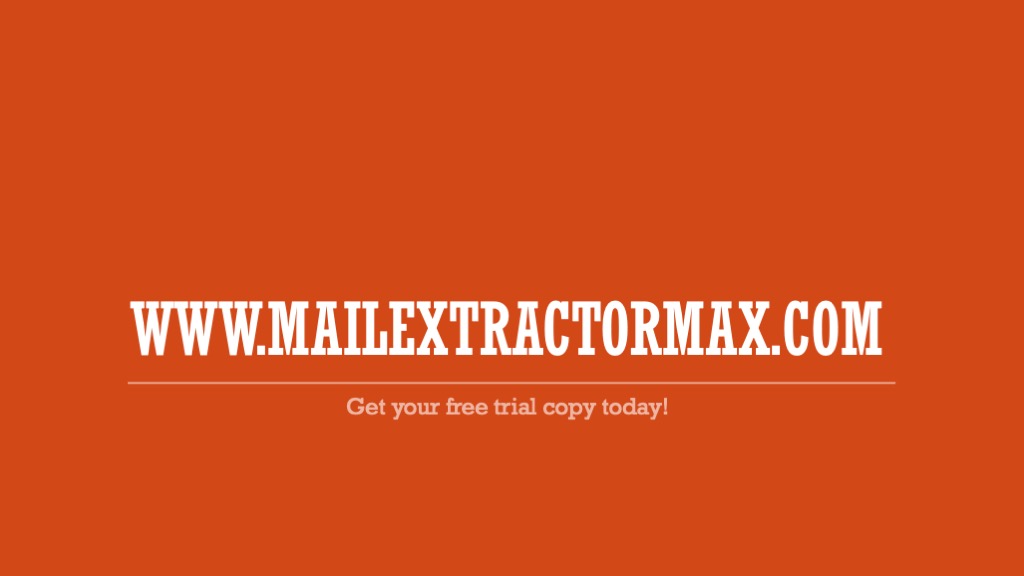 You can get started in less than a minute and convert everything from Apple Mail to the email client of your choice in no time, which is an otherwise challenging process that even IT professionals find painful to go through. "Mail Extractor Max" offers 24×7 customer support that you can always rely upon, in case you have queries or need help.
It is a Mac Mail Database conversion tool that can convert Apple Mail to EML, MBOX, Thunderbird, Postbox, Entourage, MBOX, EML etc file format.
Related Topics: